About Madison Valley
Contact
Madison Valley Merchants Association
4111 East Madison Street #290
Seattle WA 98112
Location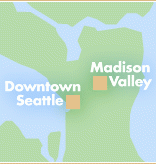 Madison Valley is a neighborhood in Seattle WA, adjacent to Capitol Hill, Madrona, and Madison Park. Located near the Washington Park Arboretum, Madison Valley has been called "Little France" in recognition of its many outstanding French restaurants. Madison Valley is two miles east of downtown Seattle and one mile west of Lake Washington.
Personality / Neighborhood Characteristics
Madison Valley is a quiet Seattle neighborhood with a European flavor. The business district is an eclectic mix of sophisticated shops, services, and restaurants. Independently owned businesses attract visitors from afar, and shopkeepers greet customers by name. Close proximity to downtown makes it a desirable place to live.
Demographics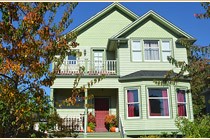 About half of residents are singles of all ages, and about 17% of households have children. The public schools that service the neighborhood are McGilvra, Stevens and Madrona. According to Zillow, 57% of people in Madison Valley own homes vs. rent. The neighborhood is composed of 67% single family homes and 22% condos. There are active email lists that keep neighbors in touch with each other. Over the years there have been and continue to be many groups of neighbors who are doing habitat restoration, participating in babysitting co-ops, exchanging tools and advice as well as enjoying block parties and a good neighborhood vibe. The median household income is around $48K.
Arboretum & Japanese Garden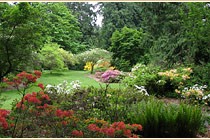 The Washington Park Arboretum is a hidden gem on the shores of Lake Washington. Free and open to the public daily from dawn to dusk, its 230 acres are a dynamic assortment of plants found nowhere else.
The Arboretum was developed on land that had been logged by the Puget Mill Company for sixty years. In 1920, the parcel was split in two. The eastern 200 acres were developed as the Broadmoor Golf Club by a group of businessmen that included E. G. Ames, general manager of Puget Mill. The western 230 were given to the city, which developed a park and arboretum on the site.
The Japanese Garden, located at the south end of the Arboretum, has an entrance has an admission fee. For information, call 206-684-4725 or visit their website.
Schools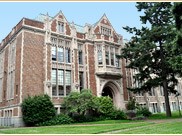 The University of Washington (2.7 miles NE) is a public research university. Founded in 1861, UW is one of the oldest universities on the West Coast. The university ranked 16th among the world's top 500 universities and ranked 24th in the world among the 100 world's best universities by Times Higher Education World University Rankings.
Seattle University (1.6 miles SW), founded in 1891, is a Jesuit Catholic university located on 50 acres in Seattle's Capitol Hill neighborhood. SU is the largest independent university in the Northwest US, with over 7,500 students enrolled in undergraduate and graduate programs within eight schools, and is one of 28 member institutions of the Association of Jesuit Colleges and Universities. U.S. News & World Report, in its "Best Colleges 2011," ranked Seattle University 6th out of schools in the West that offer a full range of master's and undergraduate programs.
Seattle Central Community College is a community college located in the Capitol Hill neighborhood. It is one of the three colleges that make up the Seattle Community College District.
McGilvra Elementary School, public K-5.
Stevens Elementary School, public K-5.
The Bush School is a private K-12 private school. The oldest K-12 independent coeducational day school in the city of Seattle.
The Valley School, PK-5 a private non-profit educational institution, was founded in 1985 by Patricia Overy and is approved by the State of Washington.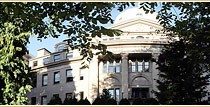 Holy Names Academy, located on Capitol Hill, was founded in 1880 by the Sisters of the Holy Names of Jesus and Mary. Holy Names Academy is an independent Catholic school for young women in grades 9-12 with an enrollment of 675. The Academy has been recognized four times by the U.S. Department of Education as a Blue Ribbon School. It offers a strong college preparatory curriculum and serves young women of diverse ethnic, economic, and religious backgrounds. Holy Names Academy has graduated over 9,500 students.
St. Joseph's School is an all-city Catholic grade school founded in 1907 on the traditions of the Jesuits and the Holy Names Sisters. Located on Capitol Hill in Seattle, the school is dedicated to the education, integration, and development of young people from all social, economic and religious backgrounds.
Garfield High School is a public high school, located in Seattle's urban Central District, Garfield draws students from all over the city. Garfield is also known as the magnet school for the school district's Accelerated Progress Program for especially gifted students. As a result, it has many college-level classes available ranging from calculus-based physics to Advanced Placement (AP) studio art.
MLK F.A.M.E. Community Center is a non-profit organization provides space for lease. Both FAME and its tenants provide classes and services that are available to the community.
Crime
For up-to-the-minute reports on neighborhood crime visit the Seattle Police Blotter.

Transportation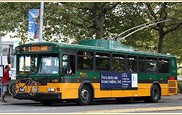 The Metro Transit #11 bus goes to downtown two–four times an hour, taking an average of 20 minutes.
Microsoft Connector Shuttle offers three pick up and drop off times in front of City People's Garden Store. Travel time is 30-40 minutes to Microsoft.
Driving to the airport takes about 45 minutes by car.
Bailey-Boushey House
Bailey-Boushay House opened its doors in June 1992 as America's first skilled nursing facility that was planned, funded, built and staffed to meet the needs of people living with AIDS. As the number of terminal AIDS cases has decreased, Bailey-Boushey has been able to expand its services offer skilled nursing care to those with a variety of diseases life-limiting illnesses.
Shops, Restaurants, & Services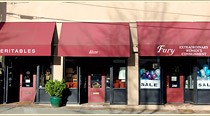 Madison Valley's business district is known for its wonderful restaurants and independently owned shops. You won't find chain restaurants or big box stores here. A partial can be found here: Dining, Shopping, and Services.
Movers and Shakers
Madison Valley Community Council
Madison Valley Merchants Association
Communication
In addition to this website the neighborhood has a variety of options for sharing information:
Madison Valley News on Facebook. Edited by Nori Hawkins
MadisonValleyWA on Twitter
Bastille Bash on Facebook
Nextdoor.com. A neighborhood blog / intranet.
The outdoor kiosk in Washington Park
The bulletin board inside Essential Baking Company
Photo Credits:
A very special thank you to all the people who contributed photos for this website. More photos can be seen at Findwell's Madison Valley Neighborhood Guide.
Website by Studio Prima