Bastille Bash 2013
MADISON VALLEY'S 2nd ANNUAL BASTILLE DAY FESTIVAL IS JULY 13
Live entertainment, gourmet food, wine tasting & family activities
Bastille Bash 2013 Program
Menus, entertainment schedules, and locations of food, drink, music and more.
The neighborhood of Madison Valley will host its second annual "Bastille Bash" on Saturday, July 13. With increased demand and a larger event planned, the event organizers have expanded the event's footprint on East Madison Street from 27th to 30th Avenue and down 29th off the main street.
From 3–8 p.m. guests will enjoy Bastille Day celebrations and indulge in the French lifestyle from Seattle's European village. Admission to the event is FREE. Food and drink tickets will be available at the event, but since tickets are limited, we recommend purchasing them ahead of time.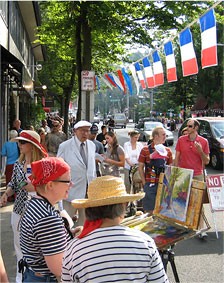 Event Highlights:
French inspired food from some of the city's most acclaimed restaurants.
Northwest and French wine tastings.
Live music & entertainment.
Register to win a 3-night stay in Paris.
Live chef demos at the Viking Stage
Garden demos by Cedar Grove and City People's
Bastille week specials and one-day sidewalk sales.
Giveaways and a variety of special offerings hosted by Madison Valley boutiques and businesses.
Series of French music, burlesque dancers, troubadours, mimes, street actors, and more, scheduled over the whole event
Art classes for Kids at Thrive Art Schoot
Food & Wine Tickets:
Tickets for food and wine will be sold online in advance. Stay tuned for ticket sale information and dates!
Food will be priced at $2.50, $5.00, $7.50 per bite and tickets can be purchased in $10 increments.
Wine tickets include ten tastings for $20 per person.
Main Stage Entertainment Lineup
2:40–3:30 – French Trio (music)
3:45–4:15 – The Heavenly Spies, Jonny Boy & Tori Tiara, The Tribellas (dance)
4:20–5:10 – Vin Voleur (music)
5:20–6:10 – Nu Klezmer Army (music)
6:20–6:50 – Heavenly Spies, The Shanghai Pearl, The Tribellas (dance)
7:00 – Giveaway: Three Nights in Paris
7:10–8:00 – Jasmine Sage (music)
Chef + Garden Demo Line Up:
3:15-3:45 – Chef Cormac Mahoney, Madison Park Conservatory
3:45-4:30 – Growing French Herbs, City People's Richard Greenberg
4:30-5:00 – Jim Drohman, Le Pichet and Café Presse
5:00-5:45 – Creating a French Garden, City People's Richard Greenberg
5:45-6:15 – Chef Jason Wilson, Crush
6:15-6:45 – Cedar Grove Gardening & composting demonstration
6:45-7:15 – Chef John Platt, St. Cloud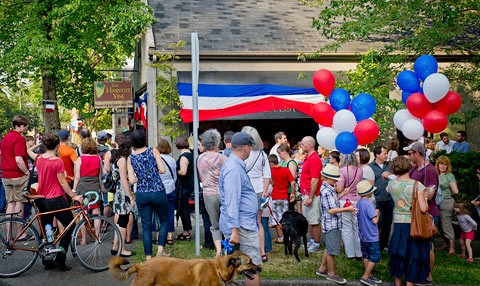 Proceeds from the event will benefit the Children's Response Center, a local nonprofit that provides unduplicated, essential legal and counseling services to children under 18 in east and north King County, who have experienced severe abuse, trauma and child crimes. For more information please visit www.childrensresponsecenter.org.
Check the Bastille Bash Facebook page for updated information on participants, entertainment, schedules and more: Facebook.com/BastilleBash.
Participating Businesses: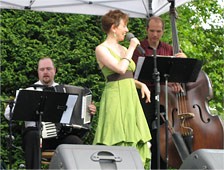 Restaurants
Crush
Cafe Flora
Essential Baking Co.
Harbor Point Coffee
Harvest Vine
Inais Patisserie
Jae's Asian Bistro
Luc
Luc BBQ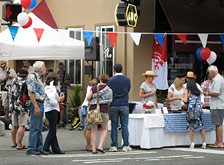 Pagliacci
Seattle Salads
The Spoon Project
Voila! Bistrot
Dry Soda
Kids Activities
Genius, A Baby Academy
Thrive, Painting Classes
Retailers
All The Best
Baas Framing Studio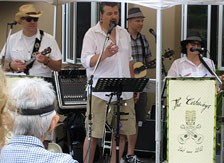 City People's
Fast Frame
France Homestyle
French Truly
Fury
Henrietta's Hats
Honey Skin Spa
Jarbo Design
Kate's Day Spa
Koselig Design
Lavender Heart
Maison de France
Missi Lu
Red Ticking
River Song
Stallman Gallery
Sugarlump
Vian Hunter

Wineries:
Balboa Winery
Beresan Winery
Facelli Winery
Hestia Cellars
Kiona Vineyards & Winery
OS Winery
Patterson Cellars
Pomum Cellars
Swiftwater Cellars
Walla Walla Vintners
William Church Winery

Breweries:
Mac & Jack's Brewery
Ninkasi Brewing

Distilleries:
BroVo Spirits
Sidetrack Distillery
Special thank you to the following for their in-kind donations:
French-American Chamber of Commerce of the Pacific Northwest