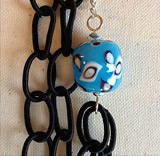 February Framing Promotion
Baas Framing is offering a 15% discount on all custom framing (some exclusions apply). Baas carries an extensive selection of frames, assembled with expert workmanship. Sale dates: February 14-28.
Valentine's Day Jewelry Sale
Members of the Madison Art Collective are offering a 10% discount on all jewelry, now through Feb 14th. The sale features four local jewelers, including glass beads by Hava Edery and vintage china jewelry by Material + Motion.
Hava Edery has recently joined their growing roster of local jewelers. She creates beautiful one-of-a-kind glass beads, and her colorful necklaces and purse charms add an artistic touch to any outfit. http://bitly.com/Xf57LA
Post a Comment
| Topics: ,