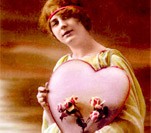 Looking for something to do for Valentine's Day? Several local establishments are offering special dining treats for you and that special someone. Menus below; make your reservations early!
Cafe Flora will be offering a 4-course menu:
First
Savory potato empanadas, kumquat chutney with croccantini, aged sheep's milk cheese, castelvetrano olives, served with a glass of champagne (available gluten free & available vegan)
Second
Yellow beets, blood orange medallions, shaved fennel, avocado green goddess dressing, marcona almonds, micro arugula (vegan & gluten free)
Third
Saffron kissed paella cakes, grilled asparagus, parsnips, artichokes, sherry aioli (vegan & gluten free)
Fourth
• Passion fruit roulade, vanilla-rum roasted pineapple, whipped cream, passion fruit coulis, fresh mango, raspberry, crushed pistachio (soy free), or
• Theo dark chocolate mousse, chocolate shell, whipped cream, red wine poached cherries, chocolate caramel sauce, nib brittle (vegan & gluten free)
Cafe Flora's decadent four-course Valentine's menu provides the perfect escape for a cozy, romantic meal, with a sustainable flair. Their locally sourced vegetarian, vegan and gluten free menu satisfies with delicious flavors and the best ingredients. Enjoy signature cocktails and local wine, beer and cider.
Friday February 14, 2014. $65 per person, reservations required, 5-10 p.m. Call 206-325-9100 to reserve. www.cafeflora.com
Luc will be offering a 4-course menu:
Chef's starter:
Mushroom, fromage sachet feuille de brique
First Course-Choice of:
• Dungeness crab cake, green apple, watercress, shaved fennel or
• Roasted beets, pistachio streusel, fromage bleu d'auvergne, wild arugula or
• Soup du jour
Entrée-Choice of:
• Market fish or
• Duck two ways, confit of duck, crispy skin breast, blood orange duck sauce, white beans, grilled endive or
• Roasted winter vegetable tajine, mahmsa, cara cara oranges, salade d'herbes.
Dessert-Choice of:
• Chocolate pot de créme or
• Floating island, citrus caviar, créme anglaise or
• Two cheeses with seasonal garnishes
Friday the 14th and Saturday the 15th. $40/person. For reservations call 206.328.6645 or reserve online.
Harvest Vine will be offering a 4-course menu:
Pintxo: Caldo de Jamón con Garbanzos Fritos serrano ham broth with idiazábal crema & fried chickpeas; (vegetarian option) tomato cumin soup with idiazábal crema & fried chickpeas
First Course: Ensalada de Espinacas
Wilted spinach salad with px sherry poached figs, caña de oveja crema & smoked pata negra belly tostada; (vegetarian option) wilted spinach salad with px sherry poached figs, caña de oveja crema & tomato tostada
Second Course: Croquettas de Arroz y Mariscos saffron rice croquettes with assorted seafood; (vegetarian option) Revuelto de Trufa lightly scrambled eggs with black truffles
Third Course: Cerdo dos Maneras cider braised pork cheeks with quince & grilled iberíco pork with panadera potatoes; (vegetarian option) Coliflor Gratinado: cauliflower gratin with sheep's milk cheese & bechamel
Fourth Course: Plato de Chocolate a selection of chocolate desserts for two
Friday February 14, 2014. $65/person not including tax, gratuity or beverages. Call 206 320-9771 for reservations. www.harvestvine.com