MARCH 31, 2014 | ANNIE FISHER

Annie Fisher Hair Salon
AFH Salon opened in August 2013, and we had our first photo shoot in January of this year. The pre-awards season inspired our team and we were excited to create a variety of looks. American Hustle generated a lot of buzz and we wanted to maintain that vibe. Our goal was to blend the nostalgia for the 60s and 70s with some of today's current trends — big curls, sheath dresses, prints that work, and a sassy pixie cut is a must. It is important for AFH artists to know the trends and, more important, to be able to customizing each look to the model or client's face and lifestyle.
Honey Skin Spa
Kendall Jacobsen (joining the team at Honey Skin Spa in Madison Valley) spent the morning doing the makeup. The results were a mix of dramatic eyes and natural looks — which is a lot of what we ended up seeing at the Oscars. Appropriate makeup was a necessity, considering the hair was in your face (figuratively speaking) and the clothes were bold.
Lisa Vian Hunter
The wardrobe was provided by Lisa Vian Hunter (also located right here in Madison Valley). We loved the animal prints, big polka dots, glitter, and sequins — trends that have lasted over the decades. This spring season you will continue to see a lot of sequins/metallics and every shade of purple.
The stylists at AFH Salon are committed to continuing their education and keeping up with current trends. We invite you in for a complimentary consultation with any one of our passionate artists, or just to see our new salon!
anniefisherhair.com
206-329-2719
Like us at AFH Salon on Facebook
Post a Comment
| Topics: ,
MARCH 27, 2014 | KATHRYN KELLER


Read the minutes of the latest Madison Valley Community Council meeting.
Post a Comment
| Topics:
MARCH 11, 2014 | ANNIE MCCALL

Here are four irresistible customers who visited our store recently. First is Jack, a weekend regular, giving his sassiest face as he waits ever-so-patiently for his treats.
Next is Ruby who belongs to our own Jenna, modeling the vintage ski sweater (the perfect transition piece to take any stylish pup from winter to spring).
Third and fourth are two yet-unnamed 7-week-old babies. The pugglet was a surprise for a customer's ecstatic (and very responsible) daughter.
The border collie baby came in to share snuggles and her love of tendon chews. (We love the marbling on that nose!)
See special offers from All The Best on pet food and supplies.
Post a Comment
| Topics:
MARCH 9, 2014 | LINDY WISHARD

Now showing at Baas Framing Studio, Carla Dimitriou's recent work in encaustic painting and mixed media on tar paper features a cast of animal, human, and mythological creatures. The raw, visceral textures create give these characters a strong visual presence that is at times both dark and humorous. Carla Dimitriou is a graduate of Cornish College of the Arts and the Vermont College of Norwich University. She is also co-owner of Dimitriou's Jazz Alley, a landmark Seattle jazz venue.

Kiss Kiss
An artist of rare intelligence, Dimitrious mixes empathy, ethics, and wit to create sumptuous images that provide ample food for thought. Her work can be found in numerous private collections throughout the Northwest and on her website.

Happy Hour at the Crowbar

Bird on Brain
Post a Comment
| Topics: , ,
MARCH 6, 2014 | WEBSITE SUBMITTED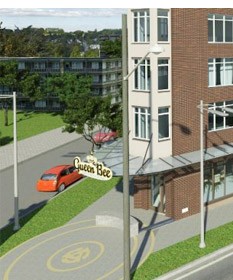 The Queen Bee Cafe located on the corner of E. Madison Street and 22nd Avenue, opened its doors for the first time to the Seattle community.
Dwayne Clark, Founder and CEO of the local assisted-living company, Aegis Living, established the Queen Bee in memory of his mother. The owner's admiration for his mother, Colleen Clark, was the inspiration to build the cafe. Colleen was a single mother of British roots who provided for her family as a hard-working line cook.
"We are so excited to provide this neighborhood with a true community cafe," stated Culinary Service Director, Justin Sledge. "Our focus is to give back to the community around us by donating all proceeds to one not-for-profit organization each quarter. We are honored to have partnered with the YMCA for the first quarter."
Whether your taste buds crave savory or sweet, the Queen Bee Cafe offers traditional English crumpets in a new way with locally sourced products and produce in tasty combinations, along with a cup of Stumptown coffee or espresso.
The Queen Bee Cafe is open daily from 7am until 4pm. For more information about the Queen Bee Cafe, please contact Shannon Monaghan, Cafe Manager at QueenBee@aegisliving.com
Post a Comment
| Topics:
MARCH 6, 2014 | LOWELL HARGENS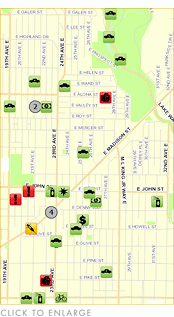 After a spike during the previous month, February 2014 saw a return to a more normal level in the number of reports to the police of crime in Madison Valley. As usual, incidents related to vehicles, including car prowl theft (8 cases), vehicle theft (6 cases) and license plate theft (1 case), constituted the largest proportion of the total number of police reports (36 cases). February also saw a rare arrest for drug possession in Madison Valley; on Feb. 13at 4:50 AM someone was arrested for cocaine possession on Madison near 20th. And surprisingly, there was only one incident during the month that the police judged serious enough to warrant a detailed incident description.
On Feb. 10 police were called to a home near 23rd and John by a resident who reported that he had been burglarized during the previous day. The resident also told the police that he had had his wallet and keys stolen from him during a robbery earlier that day and that he discovered the burglary upon returning home. It appears that the robbery didn't occur in Madison Valley because there were no robberies reported here during February. Because there were no signs of forced entry, the victim and police concluded that the burglar(s) used the keys taken in the robbery to gain entrance to the home. The police report does not list the belongings stolen during the burglary.
Lowell Hargens is a Madison Valley resident and former University of Washington professor of sociology specializing in the statistical analysis of data.
Post a Comment
| Topics: