It's not widely known that the Rautureau family lives in our neighborhood. Yes, the husband in this family is Thierry Rautureau, the famous "Chef in the Hat" and with his wife, Kathy, owner of the restaurants Luc and Loulay. The couple have lived in Madison Valley for 30 years and raised their two sons here. Their contributions to the community extend far beyond the restaurants.
Although Kathy is a homegrown American from L.A., Thierry, as everyone knows, is French. He has had an adventurous life on his journey to Seattle.
In France, at the age of 14, one chooses a career path: academic or trade. Thierry chose cooking. He worked in three restaurants learning the necessary skills and then he was off to serve his mandatory stint in the army. By 19, he was done. What to do next?
Thierry was raised in a very rural and poor part of France. His grandparents were farmers at a chateau and his parents worked locally. Although romanticized by many, rural France can be a confining environment for a curious young man. Thierry wanted a broader experience. An opportunity awaited him.
A sponsor gave him some money for travel and Thierry arrived in Chicago with $12 in his pocket. A job was waiting and he worked and lived illegally for 3 ½ years. Thanks to the other restaurant employees, Spanish became his second language. Although initially he hadn't planned to stay in America, an opportunity to travel west and explore prompted him to obtain his green card.
He and a friend bought a car for $500 in San Francisco and began a fun-filled California road trip. He worked for a pittance in his first job in Los Angeles, where wages were too low to pay his rent. Next, he landed at an Italian restaurant and there his fate was sealed. The pretty waitress asked him out and he and Kathy have been together ever since.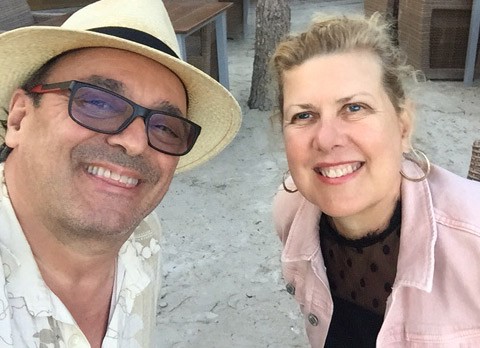 Kathy was dabbling in school and learning the flower trade. She was supporting herself with waitressing while developing a flower arranging business. Today, she's become an accomplished designer with natural talent.
In 1987, they came up to Seattle to visit friends and ate at Rover's in Madison Valley. It was a serendipitous event. Rover's owner was looking to sell the restaurant. Thierry and Kathy obtained funding from a partner, bought the restaurant and moved a few blocks away.
The convenience of living so close to the restaurant was wonderful for family life, but they were particularly drawn to the neighborhood. They loved the diversity and the vibrancy of Seattle. L.A. hadn't felt like the right place to raise a family.
When the couple's two children entered school, they were able to squeeze a bit of time from the 24/7 restaurant obligations to lead fundraising efforts. The first Auction/Dinner at McGilvra elementary raised $140,000. They continued fund raising efforts at Washington Middle School and Garfield as their sons progressed through public education.
Thierry works tirelessly giving back to Seattle. Coming from such modest means in France, he expresses amazement at his lucky life. This insightfulness keeps him going. He is a member of the Food Lifeline board and supports many other efforts to assist Seattleites experiencing food insecurity. Hunger relief is very dear to him.
Thierry is a member of the Alliance Françoise to promote French culture and has been knighted by the French government. He actively participates in Madison Valley community life through the Madison Valley Merchants Association. He is always willing to donate to neighborhood events. His many involvements in the Seattle food scene are simply too numerous to list here!
Nowadays, Rover's is closed and the new (7 years, already!) café, Luc is their neighborhood baby. Three years ago, Loulay opened downtown. Thierry oversees the food, etc. Kathy designs all the flower arrangements and you can find her as Luc's hostess on Friday and Saturday evenings. She continues to design flowers for weddings and other special events though her company "Flowerworks." You can check her out online for your next party!
And, by the way……What's with the "Chef in the Hat" handle?
Kathy explains: Looking for a different Christmas gift one year, she happened upon a nice Fedora in one of the neighborhood consignment shops. Thierry loved it. Wearing it as he emerged from the kitchen at Rover's to greet his guests, as is his custom, someone called out: "It's the Chef in the Hat"! The hat has become his trademark since that day.
It's wonderful, of course. Thank you, Kathy! And thank you both for being such great neighbors.