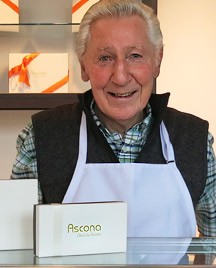 Yesterday Hans Riechsteiner opened a new chocolate store, Ascona Chocolat Suisse. Many of us know Hans as the founder of the Arosa Cafe, and the gentleman to thank for bringing those tasty waffles to the Valley. Many years ago Hans sold his Madison Valley cafe, and went on to open another Arosa on First Hill. Now he's returned to Madison Valley, this time with the world's finest chocolates.
Hans is importing Läderach chocolate from Glarus, Switzerland. When I asked him why Läderach, his answer was simply, "It's the best chocolate in the world." The Swiss native isn't new to the chocolate business, either — Hans owned seven chocolate shops back in the '80s.
The new store, named after Ascona, a posh resort town in Switzerland, is a beautifully designed space with a wide range of chocolate flavors, including Orange Dark, Divine Red Calvados, Pistachio, Champagne, Hazelnut, Naugatine, and Cognac. Assortments of chocolate come in three box sizes: Prices are $18, $38, and $48.
When asked about his favorite part of this new business venture, he said, "I found the exact job I want for the rest of my life. Hopefully, another twenty years."
Ascona is open Mon–Sat, 10:00 AM – 6:00 PM. The shop is located on the bottom floor of the Madison Lofts condominium building. 2914 East Madison Street, Suite 103. 206 329-0153