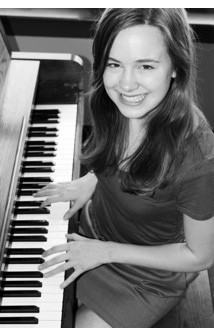 The piano studio of Katie O'Rourke recently relocated from Bellingham to Madison Valley near 24th and Aloha Street.
Katie's mission is to guide students in a joyful exploration of music through personalized and innovative piano instruction. The curriculum, which places a strong emphasis on physical comfort, note reading and performance, is designed to take students to an advanced level of playing appropriate for college auditions and work as a professional musician. Challenging repertoire also creates an exciting learning environment for adults or children who prefer to play for recreation. Students are encouraged to perform in the Washington State Music Teachers Association Adjudications as well as studio recitals. Group classes provide a fun and inspiring environment for students to practice performing and encourage each other through community.
Katie has recently attended two workshops in Dalcroze Eurythmics, a system of teaching music that includes movement, singing and improvisation. Through her recent exposure to Dalcroze, and past training in the Taubman technique, Katie has developed a unique set of tools to help students with rhythmic and physical difficulties at the piano. These tools, which include improvisation in the classical style as well as free improvisation, provide an opportunity for students to release tension and to naturally internalize rhythm in their bodies. Katie aims to create a comfortable learning environment where new challenges always feel approachable and achievable.
Katie is a Nationally Certified Teacher of Music and has a B.A. in Piano Performance from Western Washington University, where she studied piano with Milica Jovanovic and Jeffrey Gilliam. She also has an additional 5 years of private study with Jeffrey Gilliam with an emphasis in playing mechanics and technique. Katie served as pianist for the Whatcom Symphony Orchestra, and collaborated with groups such as Skagit Opera, Whatcom Wind Ensemble and Bellingham Chamber Orchestra.
Katie can be reached by email or phone: 253-905-9090.