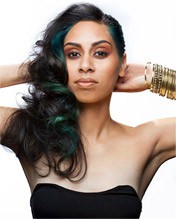 AFH Salon was thrilled to participate in the first annual Northwest Hairstyling Awards as part of Seattle Style Weekend on September 13th, with two of our stylists nominated for awards and the whole team providing hairstyling for runway shows (pictured below)!
We love taking care of our clients' hair for everyday looks, but it's always a great experience when we're given the opportunity to flex those creative muscles and do some fabulous, avant-garde hair.
Danaelle Bell was nominated for the newcomer award (her work is at top) and Jeremy Todd Abraham was nominated for hairstylist of the year (his work is below)!
For tips, tricks, and more great reads, head over to AFH's blog.