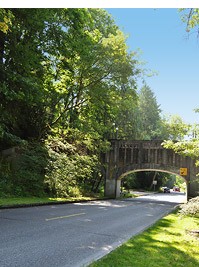 Seattle Parks and Recreation, the University of Washington Botanic Gardens and the Arboretum Foundation invites the community to a public meeting for the Washington Park Arboretum Multi-Use Trail. The final public meeting is scheduled for Thursday, Feb. 27 from 6:30 to 7:45 p.m. at the Graham Visitors Center located inside the park at 2300 Arboretum Dr. E.
The Arboretum Multi-Use Trail project provides a trail from the intersection of East Madison through the Arboretum to the intersection of Foster Island Road and Lake Washington Boulevard.
At the meeting, design development drawings will be presented that take into consideration input from public meetings held in 2011-2012. Parks staff will be on-site to answer questions and collect feedback. The community is encouraged to participate and all are welcome.
In June 2013, City Council approved $7.8 million from Washington State Department of Transportation to fund implementation of the Arboretum Multi-Use Trail. This project, as outlined in the in the Arboretum's Master Plan, is a key element in mitigation effects of the upcoming replacement of the State Route 520 Bridge.
For more information about the project visit seattle.gov/parks/projects/arboretum/trail.htm If you have questions about the project please contact project manager Andy Sheffer at [email protected] or 206-684-7041.