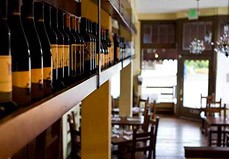 La Côte closed last week, but in its place another critically acclaimed restaurant comes to Madison Valley. Trevor Greenwood, owner of the celebrated Cantinetta in Wallingford and Mercato Stellina Pizzeria in Bellevue, has purchased La Côte in an undisclosed investor/partnership arrangement with La Côte's owner Arnaud Guerin. Guerin will stay to oversee the buildout of the new space and assist with the transition.
The new restaurant will be called Bar Cantinetta, and will include a complete redesign of the interior, including the addition of a wine bar. While we don't know all the details of the menu, we've confirmed that homemade pasta will be part of the fare. Cantinetta in Wallingford was named 2012 Reader's Choice for Best Italian food.
Bar Cantinetta is scheduled to open at the end of July. The new restaurant will probably play a role in this year's Bastille Bash, but this has yet to be confirmed.
While the loss of La Côte makes Madison Valley a little bit less French, the addition of a Tuscan restaurant enhances the Valley's reputation as a European village.