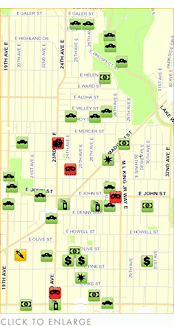 There were 42 incidents reported to the police during August, down from the 56 incidents reported in July. Most of the difference between the two months stemmed from a decrease in vehicle-related crime reports; there were 19 such reports in August compared to 31 in July.
Two completed robberies and an attempted robbery were reported in August.
1. On Aug. 5 at about 2:30 AM a woman who was walking home near 27th and E. John was shoved from behind by someone who then ripped her backpack off her shoulder. The backpack contained her wallet, credit cards, iPhone, and house keys. The woman described the robber as a black male about 5' 8" tall. The police drove her home and made certain that there was no one in her residence.
2. On Aug. 13 at approximately 10:30 PM a woman who was sitting on a bench in Prentis Frazier Park was approached by two unknown males. One of them pointed a handgun at her and told her "give me you stuff." The woman began to scream, and the robber told her to stop screaming or he would shoot her. After the woman gave the robbers her backpack and phone they fled south on 24th and about half a block away got into a dark 4-door sedan. The police were unable to find any sign of the vehicle during a search of the general area.
3. On Aug. 16 at around 1:30 AM two women who were walking home along 23rd near Union, noticed a white male dressed in a grey hoodie and wearing a bandana over his face approaching them from behind. As he drew near, the man pointed a gun at the women and said something they were unable to understand. Both women then sprinted north on 23 and soon arrived at their home, which is a short distance from 23rd and Union. Neither looked backward as they ran north, and the police were unable to find the gunman when they later searched the area.
There were two burglaries reported during August.
1. During the night of Aug. 2–3 someone kicked in the back door of a restaurant in the 2700 block of E. Madison and stole 15 bottles of wine from the bar display. The police found no fingerprints at the scene.
2. On Aug. 16 police were called to a residence near 25th and Denny at approximately 3 AM. There they found the caller in the back yard, and she reported that a little earlier a white male, about 5' 3", around 30 years old and with shoulder-length reddish blond hair entered her bedroom while she was unpacking clothes and made a lewd remark to her. She then ran outside the house and called the police. The intruder apparently left her residence without taking anything, and police were unable to find any one matching the description given by the woman during subsequent searches of the surrounding area.
Lowell Hargens is a Madison Valley resident and former University of Washington professor of sociology specializing in the statistical analysis of data.