In mid-August the SPD unveiled a new website for access to its Police Report data. Although the new website makes some kinds of analyses easier, it makes others, such as presenting monthly data specific to Madison Valley, more difficult. As a result, until I become more familiar with the new system I will focus the monthly Madison Valley report on the types incidents for which detailed descriptions are available, such as robberies, burglaries and aggravated assaults. This means that information about the numbers and locations of other incidents, such as car prowls and property damage/graffiti, will not be reported. I hope to be able to find a way to obtain such information soon so that future monthly reports can again cover these less serious incidents.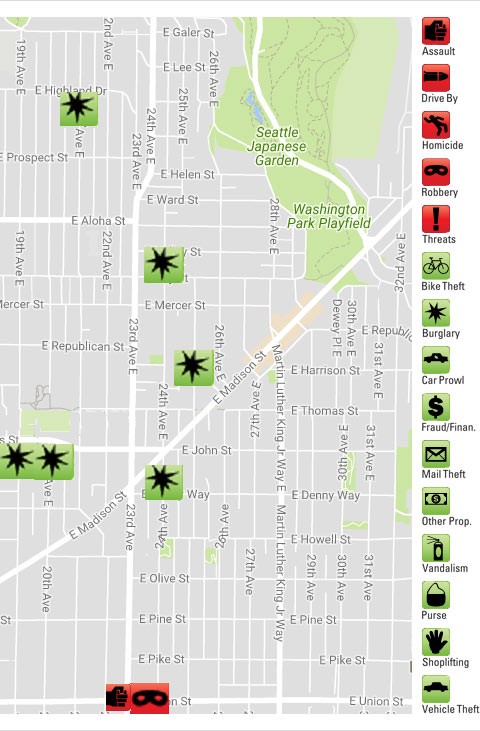 During August, there were five burglaries, an aggravated assault, and an armed robbery in Madison Valley.
1. Sometime during Aug. 05 – 14 someone broke into the garage of a residence on 21st Ave. E. near Highland and took a generator and a bicycle. Police found a bottle that the burglar had left in the garage and sent it the police lab for a fingerprint search.
2. On Aug. 9 there was a non-residential burglary on 25th near Harrison, but no details of the incident have been posted.
3. On Aug. 15 at approximately 4:30 PM a burglar broke into an apartment on 20th near John by removing a window screen and crawling through the uncovered window. Once inside the apartment, the burglar took a black handbag containing a wallet with $60 inside as well as personal ID and credit cards. The victim called the police upon returning to the apartment the next day, by which time several purchases had been made with the credit cards. Security cameras at the building recorded the burglar, described as a white male about 5"11" tall with a thin build, short dark hair and wearing black clothes, breaking into the apartment and leaving it carrying a black handbag. Police found fingerprints at the scene.
4. Police were called to an apartment building on 24th Ave. E near Denny on Aug. 16 to investigate a burglary that apparently occurred sometime between Aug. 9 and Aug. 15. A neighbor discovered several open packages outside the building that were addressed to residents of the building and reported this to the building's manager. The police learned that someone had recently forced open mailboxes in the building and the door to a storage room, but were unable to locate usable fingerprints.
5. Sometime between Aug. 16 and Sept. 8 a burglar entered an apartment on 19th near Thomas, and after ransacking it, took a laptop and approximately $60 in cash. The victim, who had been away since Aug. 16, found upon returning that her front door was ajar even though she had locked the deadbolt when she left. The victim told police that there were ongoing problems with security at the apartment building.
6. Sometime between Aug. 25 and Sept. 2 there was a burglary at a home on 24th Ave. E. near Valley, but no details have been posted.
On Aug. 7, shortly after noon there was an aggravated assault at 22nd and Union. Although the police have posted no details, this incident is listed as a possible hate crime.
At 11:50 P.M. on Aug. 31 police were called to a business on Union near 24th to investigate an armed robbery that had just occurred. When they arrived, employees told them that while they were cleaning up and preparing to close for the day, three robbers, dressed in hoodies and wearing face masks, came into the store brandishing handguns with laser sights. The gunmen ordered the employees into a back room and made them lie face down on the floor. The night manager of the store, who was in the back room getting ready for closing, was ordered to open a locked safe, but told the robbers that he didn't know the combination. The robbers then took a bag containing over $5000 in cash and fled the store. The entire incident took less than a minute and was recorded by the store's security cameras.
Lowell Hargens is a Madison Valley resident and former University of Washington professor of sociology specializing in the statistical analysis of data.