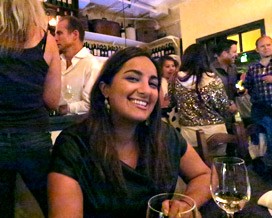 Madison Valley saw the opening of a new dining location — Bar Cantinetta opened its doors at the corner of Madison St. and 29th Ave E on Thursday evening. The soft opening served a limited menu suitable for service as hors d'oeuvres: brioche grilled cheese, country ham BLTs and fried bacalao balls. The event was very well attended: the baked figs wrapped in Speck could not make it 15 feet from the kitchen before disappearing into hungry diner's hands.
The space has changed a bit from its days as La Côte. A full bar with lots of seating now extends towards the back of the restaurant, facing the open kitchen. Décor is simple, with charming crystalline light fixtures in the main seating area and glowing lamps above the bar. Service was amazingly prompt even with the large crowd, and the entire staff was excited about being a part of the Valley.
Bar Cantinetta is a welcome addition to the neighborhood. The regular menu looks delicious, and promises to vary with the availability of seasonal produce. Entrees are reasonably priced (around $16 a plate), and many appetizers can be had for less than $10. We look forward to fall nights cozied up to the bar, watching the foot traffic go by, munching on some of the best Seattle has to offer. Buon appetito!