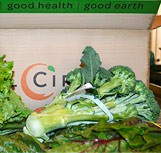 For over 25 years, the concept of Community Supported Agriculture (CSA) has been a way for consumers to receive locally grown, seasonal food in partnership with farmers. CSAs are a win-win for everyone involved. Small independent farmers receive dollars up front at the beginning of the season that can be used to buy seeds and stabilize their overall cash flow, while customers are supplied with fresh produce and other farm products on a weekly basis throughout the growing season.
We are fortunate to have access to many different programs in our area. A few of them operate on the traditional model where you receive produce directly from the organizing farm for the duration of the growing season, which averages about 20 weeks out of the year. Others are built with an extended infrastructure that provides products year round, but rely on an expanded network of small farms located in areas with longer growing seasons like California and Mexico. Once you determine which format works best for your lifestyle and interest, it's easy to get signed up to receive your weekly produce along with other farm or grocery items that may be fulfilled by the CSA.
You can find a complete list of all the CSAs available in our area at Local Harvest.org. Following is a list of those who deliver directly to Madison Valley and surrounding neighborhoods.
Much of the CSA share comes from Full Circle Farm during our local growing season, and the rest is sourced from other CSA cooperatives located in warmer climates during the rest of the year. Fully customizable boxes come in 4 different sizes ranging in price from $22.95 (about 15–20 servings) to $44.95 (about 45–55 servings) per week. The weekly crop contains fruits and vegetables, as well as the ability to add many locally sourced grocery items that are delivered to a site host in the neighborhood. Permanent exemptions can be requested and you can review the order contents each week prior to delivery. The service allows for vacation holds to be made so your weekly share won't go to waste.
New Roots is a year-round produce home delivery service that offers locally sourced products. The bins come in two sizes and range in price from $30–$40 per week. One is sized for singles/couples and the second is for a family of four. You can indicate whether you want to receive both fruit and vegetables, or only fruit or only vegetables. The service also allows for substitutions to be made, as well as vacation holds to be requested.
An Oxbow share provides 20 weeks of fresh, local, organic produce that is grown almost exclusively on their farm and harvested within 48 hours of delivery to Cafe Flora for pickup. The CSA offers 2 sizes: a family share for $630 and a small share for $420 per season. Additional subscriptions can be made to receive the following: a fruit CSA from Eastern Washington, a mushroom share, a jam share, and a sauerkraut share. If you are planning on being away on vacation, be sure to ask a friend to use your share so it doesn't go to waste.
Tiny's Organics, a small family-run farm located in East Wenatchee, WA, appears to offer the most versatile options. They can deliver to Cafe Flora or your home year-round or only during the 20-week growing season. The 6 different boxes associated with the two plans range from $19.95–$42.95 per week for 52 weeks, or $367 to $756 for the season.
The Goose and the Gander Farm
Run by two Columbia City residents, this 2-acre farm located in Fall City has begun offering a seasonal CSA this year. Boxes come in two sizes, a partial size ($360) and a full size ($540) and are delivered each week to Cafe Flora. Additional items from other farms and favorite local businesses, like the Columbia City Bakery, can also be added to each order. Vacation holds can either be donated to a food bank, passed on to a friend, or credited to receive an extra box later at the end of the season. Contact via email for sign-up information until their site launches.