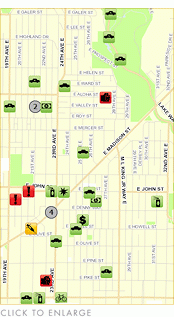 After a spike during the previous month, February 2014 saw a return to a more normal level in the number of reports to the police of crime in Madison Valley. As usual, incidents related to vehicles, including car prowl theft (8 cases), vehicle theft (6 cases) and license plate theft (1 case), constituted the largest proportion of the total number of police reports (36 cases). February also saw a rare arrest for drug possession in Madison Valley; on Feb. 13at 4:50 AM someone was arrested for cocaine possession on Madison near 20th. And surprisingly, there was only one incident during the month that the police judged serious enough to warrant a detailed incident description.
On Feb. 10 police were called to a home near 23rd and John by a resident who reported that he had been burglarized during the previous day. The resident also told the police that he had had his wallet and keys stolen from him during a robbery earlier that day and that he discovered the burglary upon returning home. It appears that the robbery didn't occur in Madison Valley because there were no robberies reported here during February. Because there were no signs of forced entry, the victim and police concluded that the burglar(s) used the keys taken in the robbery to gain entrance to the home. The police report does not list the belongings stolen during the burglary.
Lowell Hargens is a Madison Valley resident and former University of Washington professor of sociology specializing in the statistical analysis of data.