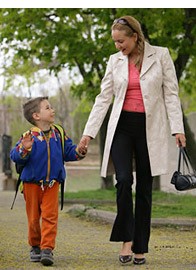 Heading back to school oftentimes means heading back into a germ-filled classroom. Start boosting your child's immune health now to keep colds and other bugs at bay!
Vitamins
A children's multivitamin provides the basic vitamins and minerals needed to mount a healthy immune response, and newer formulas are made from tasty, organic fruits and vegetables. Hero Nutritionals Yummi Bears Organics Multi-Vitamin is a tasty kids' multivitamin gummy, free of common allergens like soy, dairy, gluten, and corn.
Vitamin D levels are important for everybody, but growing kids are especially in need of supplementation, and even more so during the winter months. My favorite vitamin D supplement is Garden of Life Kind Organics Vegan D3, which, believe it or not, tastes like birthday cake!
Vitamin C is another great immune supporter, and children typically need only 250-500 mg per day to reap the benefits during cold season. Emergen-C Kidz Vitamin C 250mg is a powdered drink mix that delivers this dose, and tastes great.
Echinacea
Most people know that echinacea is used as an immune booster, but not many realize that it also works on the lymphatic system. This multi-use herb is great for clearing or preventing illness because it keeps the lymph system—essentially the body's sewer system—clean and free flowing. Oftentimes mild illness is worsened because of the body's inability to clear waste, so having echinacea on board can certainly reduce the severity and duration of colds and flus.
Hydrotherapy
One of my favorite at-home remedies is the Warming Sock Treatment, which is designed to strengthen the immune system and stimulate blood flow. The only supplies you'll need are a pair of thin cotton socks, a pair of thick (preferably wool) socks, a towel, a bowl of ice cold water, and a bowl of warm water. Right before bedtime, soak thin cotton socks in the bowl of ice cold water, and place your child's feet into a warm water bath. Once the feet are nice and rosy, dry them, wring out the ice cold socks, and put them on. Immediately layer the thin socks with the dry thicker (preferably wool) socks, and put your child to bed.
Temperature manipulation is a time-honored technique of hydrotherapy that upregulates immune function by triggering your body's natural response to warm your cold feet. By drawing blood down to the feet, blood flow is moved away from the infected areas in the head and chest. Most children love these "magic socks," and adults can certainly benefit, too.
While these are all great ways to address immune health this season, keep in mind that the most basic medicine is lifestyle based. Ensure your child has an adequate intake of fresh, filtered water, typically 32-48 ounces per day, and is getting enough sleep to recuperate from the day.
As always, if you have any questions regarding your child's immune health, the practitioners at Pharmaca are always available to help you navigate through the season. You're also welcome to attend Pharmaca's complimentary "Mom & Baby" event at Pharmaca Madison Valley on Sunday, August 17 from 11 a.m.-3 p.m., where moms and moms-to-be can enjoy individualized child health consultations, complimentary product samples, free kids' activities and more.
Have a happy and healthy school year!