Finally! A fabulous yoga studio has opened in Madison Valley in the traditional courtyard space along Madison Street. Earth + Wind + Fire brings the mega-watt star power of the owners which will surely restore this venerated site to the former glory of the original studio, Santosha.
The dazzling light-filled space has been lovingly refreshed to uphold its reputation as the most beautiful studio in Seattle. It is simply a joy to practice here.
Owners Alice, Madzy and Jamie have been together since 2008 when Jamie opened Mountain Flow Yoga. Alice and Jamie were childhood friends from Epiphany School, reconnected at an Epiphany Alumni reunion and were surprised to learn that they were both teaching yoga. Alice immediately jumped on board as Mountain Flow's first teacher. Madzy was a student in the very first class Jamie ever taught at Mountain Flow. She quickly transitioned to teaching and through the years, the three teachers developed a sisterhood that fosters their current collaboration. All three women live with their families in our community.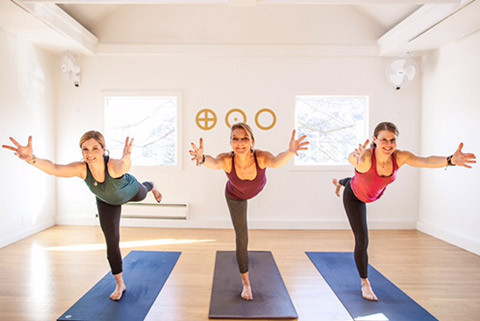 Owners Alice, Madzy and Jamie.
The Earth + Wind + Fire name is from the yoga-based medicine practice of Ayurveda. Ayurveda organizes a person's personality and constitution into one of three doshas: earth (grounded and calm), wind (fluid and creative) and fire (passionate and energetic). The three teachers have recognized themselves as one of these doshas and bring their unique practice style in line with them. Alice (earth) offers classes that she customizes on the spot to the students present at the time. Madzy, (wind) guides her students to find their potential with playful, core-based challenges. Jamie, (fire) leads athletic classes that open doors to new and perhaps unrealized possibilities.
The studio offers classes from 6 AM into the evenings with a thoughtful range of styles. Challenging, vigorous experiences are balanced with calming and restorative practices. For the encouragement of new yogis, there is the Stiff + Scared class. Pricing options are generous and varied. An enticing intro for new students is $50 for 5 classes. Wow! What a deal!
As an additional enhancement, the studio hosts a variety of workshops and retreat opportunities. Upcoming retreats in 2019 include Costa Rica in January and Sonoma in August. Check out the website: earthwindfireyoga.com for details.
Earth + Wind + Fire will surely kindle the interest of locals who may have had to journey to far flung sites for their practice. It is absolutely wonderful to have such a quality studio in our neighborhood. Thank you, Alice, Madzy and Jamie!