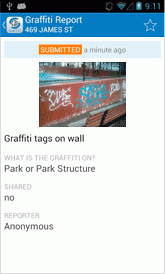 Fighting graffiti just went digital. The City of Seattle has developed an app called "Find It, Fix it" that allows users to report graffiti via their smartphones.
With Find It, Fix It, reporting an issue is as easy as snapping a photo with your phone, adding some details, and tapping Submit. The app's "drag and drop" map feature or the phone's own technology can be used to pinpoint the location. The report is automatically routed to the appropriate department for response.
In addition to graffiti, you can also report abandoned vehicles, potholes, parking enforcement, and make other inquiries.
What happens once you've submitted a photo?
Submissions are entered into the city's Constituent Relationship Management (CRM) system, and departments responsible for providing that specific service will manage and track requests. The City of Seattle began using the CRM system in December 2011, and cautions that there may be some initial delays in response time as city departments adjust to any increase in service requests.
The City anticipates adding other request types in the future and welcomes feedback on the app and ideas for additional features. Users should choose the Find It, Fix It app's "other inquiry" category – found under the "New Request" icon – to submit feedback.
You can read more about Find It, Fix It on the city's website, and this GeekWire review.
Download the app for iOS or Android.