Since Monday, Seattle firefighters have been setting up at the intersection of 28th Ave East and East Roy Street.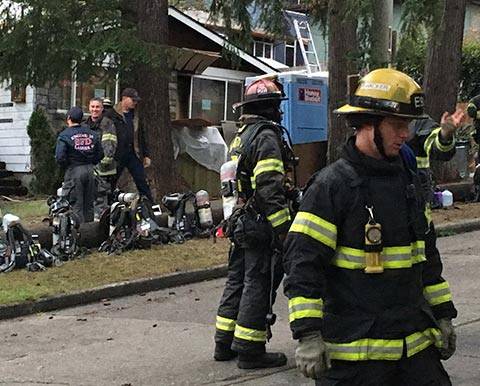 The firefighters are conducting a "training burn" at this location, an exercise that allows firefighter trainees to practice putting out fires. The officer in charge told me they have one instructor for every trainee onsite. It's an opportunity for the trainees to work with live fire in a controlled setting.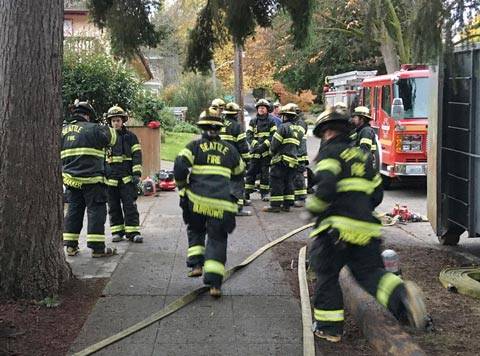 And there are fire trucks and safety equipment set up around the perimeter of the training site to put out a fire should something go wrong.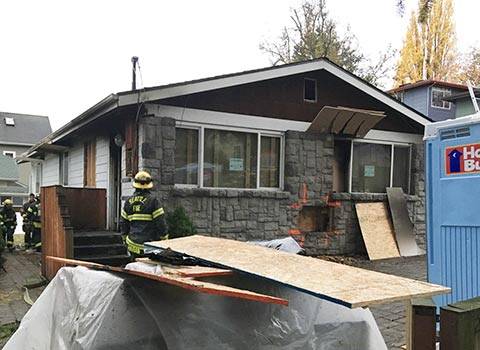 The house on the site been vacant for the past several years, and owners Andy Morris and Lynne Salkin plan to tear down the structure and build a new home there.
"Our insurance agent told us that fire departments are sometimes looking for vacant homes to practice on. We loved the idea and I contacted the fire department last spring," said Lynne. The fire department then went into the house and prepared it for the training. They worked for a full week rebuilding walls, venting the roof, and building new doors. "It was very exciting to pull up on Monday morning and see the training in action. It's certainly not every day that you're happy to see smoke pouring out of a house you own!"
"It is really encouraging to see how seriously the FD takes their training. It gives me a lot of confidence as a resident of Seattle that we are supported by highly qualified first responders," said Andy. "The men and women working the scene each day, from the most junior recruit to high-level officers such as Captains and Lieutenants, have a true passion for community relations. They patiently explain firefighting techniques and fire safety to spectators. They encourage neighbors young and old to observe and to ask questions. They show off their equipment. It is really impressive to see the pride they have in serving the community!"