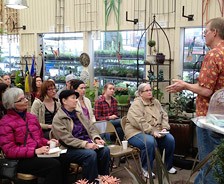 City People's is offering a wide variety of free gardening workshops in 2013.
Expert speakers will cover such topics as landscaping, pest and disease control, composting, and fertilizing. Also, there will be instruction in apartment gardening, the best techniques for year-round vegetable and flower growing, making hoop-houses and cloches, fruit canning, and even chicken farming.
Get thee to a nursery!