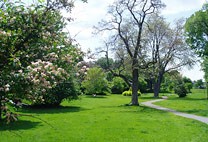 The space at 19th and Madison will become a park. Our community was lucky enough to get a grant to hire a landscape architect and public artist to work with us to design this space as a park. You'll likely walk by, drive by or walk/bike through this space now! Let's work together to improve the look and feel of this public space.
It's easy to engage in our community. Please do two things:
1. Review 3 park designs created by our community members and comment on this very brief survey. With your feedback, we can move forward to creating a single preferred design.
2. Join the next Public Design Workshop #3 to discuss final park decisions on: Tuesday May 28th, 6:30-8:30pm Hearing, Speech, and Deafness Center Conference Room at 1625 19th Ave Seattle, WA 98122
We look forward to seeing you in a few weeks! Thank you