Ishbel Dickens is a soft-spoken woman. However, her quiet demeanor does not mask her life's passions. It's really obvious that she is fully committed to them.
Now retired, Ishbel has spent the majority of her working life as a legal aid attorney representing the owners of manufactured homes — an often-maligned group. She worked tirelessly with these low-income families to ensure that their legal rights were protected and enhanced.
As the mother of four and grandmother of eight, Ishbel is dedicated to her family. She glows when talking about her children and grandchildren. She is a valued friend, neighbor and member of our community.
However, for more than fifty years, one of her most enduring passions has been field hockey. Ishbel has been playing continuously since she was a young girl in her native Scotland. She and her twin sister Ailsa played against each other in their grandparents' garden using their dad's old field hockey sticks.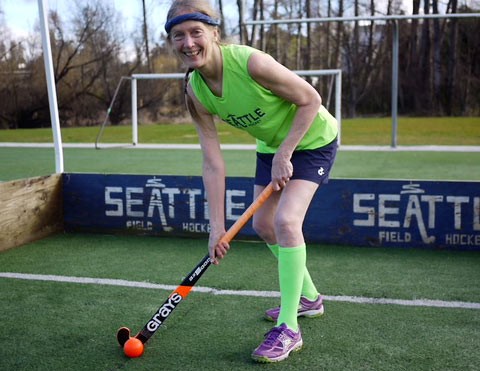 Thirty years ago, upon arrival in Seattle, Ishbel set about finding a local hockey team. Fortunately, Seattle Parks and Recreation had contact information for an ongoing women's team that had been playing since 1953 and was originally the U.W. Alumni Club. She joined up immediately and now plays for and captains the Seattle Woman's Field Hockey Team. They practice and play year-round at Montlake and Washington Park.
The team participates in tournaments in Canada and other parts of America. Additionally, they took a touring team to Europe several years ago. Although the Seattle team boasts over 100 members, there is a core of thirty players. The team has players from age 20 to 60s with the average ages being late 20s to 30s. Her husband, Markus Krueger, has been chosen for the U.S. 050 World Cup men's team. Markus coaches the Seattle women's team.
Ishbel describes hockey as an exciting game for all ages and abilities. She feels that the game requires more skill than soccer and ice hockey. She loves the outdoors and playing a team sport has allowed her to connect easily with new friends whenever she has moved to other cities in Great Britain and when she came to America over thirty years ago.
At 64 years old, (she's by far the oldest member of her home team) Ishbel competed for a place on the U.S. World Cup O55 team. The tryouts took place in both California and Pennsylvania and she was selected to be one of eighteen team members to play in the Master's World Cup in Spain against 055 teams from several other countries.
Although running and an individual fitness regime previously composed Ishbel's primary training program, hip problems now have her in the pool for water aerobics and taking hot yoga classes. She trains diligently to stay in shape for future competitions.
Ishbel is also captain of Alliance — a women's international team. She loves meeting and competing with players from around the world and the travel to distant lands. She has played with them in Scotland, Australia, and The Netherlands. She has also traveled to South Africa and will be in New Zealand this year playing in social tournaments.
Inspired? Ishbel encourages anyone with the desire to check out The Seattle Women's Field Hockey Team. They are always welcoming to new players of all abilities and ages. You can find them (of course!) on Facebook.
The World Cup competition will take place July 25th through August 5th in Spain. Congratulations Ishbel on your remarkable accomplishment and best of luck in the games! Your community will be cheering you on!