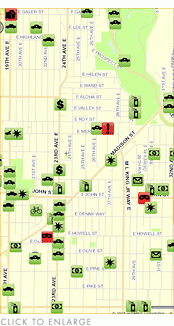 There were 58 Madison Valley incidents reported to the police during January 2015, almost the same as the number for January 2014 (60 incidents). As usual, car-prowl theft and vehicular theft (28 incidents) constituted the largest category of the reports, but there was also a spike in property damage/graffiti reports (9 incidents). There were also 6 burglaries reported during January.
1. On Jan. 9, police were called to a home on 30th Ave. near Denny to investigate a burglary that had occurred earlier that day. The burglar entered by smashing a window and then stole approximately $4000 worth of items, including a tablet computer and video gaming equipment. The resident who notified the police told them that she suspected that a neighbor, who had previously burglarized the home, was responsible and that she might have evidence from surveillance cameras in the home. Police found no fingerprints at the scene.
2. Also on Jan. 9 someone entered a residence on 23rd Ave. near Olive through an unsecured garage and took a bag containing electronic equipment, including a laptop, from an upper story bedroom. No fingerprints were found at the scene.
3. On Jan. 12, sometime between 11 AM and 9 PM, a burglar broke into a residence on Madison between 26th and 27th by breaking a ground floor sliding glass door. The burglar stole $80 in cash and an unspecified number of laptops. Police found no fingerprints at the scene.
4. Also on Jan. 12 the owner of a business on Mercer near 19th called police to report that a burglar forced open a window of his business and had stolen computer equipment worth approximately $3600. Police found possible fingerprints on the window.
5. During the afternoon or evening of Jan. 18 someone smashed open the bedroom window of an apartment on 27th near Pine. When the tenant returned to the apartment at around 10 PM, she found the smashed window and some damage to a wall. However, she could find no evidence that the burglar had searched her apartment or that anything had been taken from it. The police were unable to find fingerprints.
6. Sometime during January there was apparently a burglary at a location on John St. near 20th Ave. E., but the police have given no other information about it.
Finally, two robberies were reported during January, but the police have released no information about either of them beyond when and where they occurred. The first was at a location on 22nd Ave near Denny at 11 P. M. on Jan. 23, and the second was on John St. near 29th Ave. E. on Jan. 31 around noon.
Lowell Hargens is a Madison Valley resident and former University of Washington professor of sociology specializing in the statistical analysis of data.