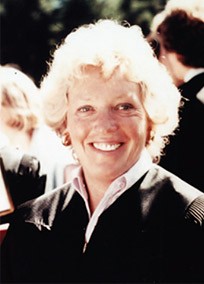 In September, the Madison Valley Park Foundation donated a local park to the city of Seattle.
Julia Lee's Park, located at MLK and East Harrison, was established in 1993 as a memorial to Julia Lee Knudsen by her husband, Calvert Knudsen (pictured below).
Julia Lee Knudsen was born in Seattle in 1925 and lived in the Washington Park neighborhood. She met her future husband while they were students at the University of Washington. Later in life she was active in the arts, and was a trustee of the Seattle Symphony and a member of the Arboretum Society of Seattle. She died in 1990 from heart failure at age 65.
Afterwards, her husband purchased an empty lot to build a memorial. He hired architect Glen Takagi and landscape designer Ann Smith Hunter to create the park. Ms. Hunter chose mature shrubs and trees for a lush look, as well as plantings that would require little maintenance. During spring the park abounds with azaleas and rhododendrons in full bloom.
The donation was authorized by Julia's grown children, who no longer live in the area. Their reasons for donating the park were the difficulty in upkeep, but more important, to prevent it from being developed.
The dedication ceremony takes place October 24. Julia's children will be in attendance.
Monday, October 24
Noon to 1 PM
Remarks at 12:30 PM
Light refreshments will be served.