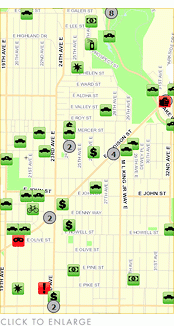 There were 56 crimes in Madison Valley reported to the police during July. As has often been the case, vehicle-related incidents composed the majority of the crime reports: during July there were fifteen cases of vehicle theft, fifteen cases of car prowl theft, and one case of license plate theft.
There was one armed robbery and one aggravated assault during July.
On July 13 at around 3 AM a woman who had been dropped off by taxi near 20th and Madison was approached by two black males who demanded that she give them her purse and cell phone. At first she resisted but when one of the robbers pointed a handgun at her and grabbed her phone, she threw her purse at him and ran from the scene. The victim told the police that she did not notice anything distinctive about either of the robbers because the incident happened so quickly.
On July 30 police received a call reporting a prowler in the neighborhood of 31st and Madison. On arriving the police spotted the prowler and arrested him for trespassing. The police subsequently learned that previously that day a business owner in the neighborhood observed a man attempting to force an entry into his building. When the owner told him to leave the man refused and pulled a rock out of his pocket. Believing that he was going to be assaulted, the owner told the man that he was going to call the police, at which point the man left the scene. The police report notes that the prowler they arrested for trespassing matched the description of the person that the owner confronted earlier.
Finally, there was one attempted and one completed burglary reported during July.
On July 9 owners of a home on 20th Ave. near Pike who had had renters during the previous month returned to find that two laptops and a record collection were missing. The owners did not meet the renters, who live in a foreign country. The owners and the police were unable to determine whether the renters had taken the missing items, or whether someone had entered the house while no one was present. The owners estimated the stolen items to be worth approximately $1200.
On July 22 a resident on 25th Ave E near Helen St. observed a middle-aged male peering into his house. After observing him circle around his property in what appeared to be preparation for a break in, the resident shouted at him and then the suspect quickly walked away. The resident was able to take a picture of the suspect with his cell phone, however, and gave the picture to the police. The police were unable to obtain usable fingerprints at the scene.
Lowell Hargens is a Madison Valley resident and former University of Washington professor of sociology specializing in the statistical analysis of data.