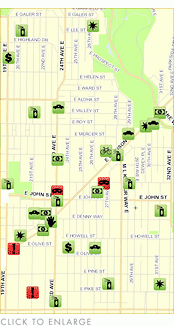 Crimes in Madison Valley reported to the police during July were up a bit from their June level, returning to a level (approximately 30 incidents) we experienced in earlier months of this year. As in June, car prowl theft (3 incidents) was lower than in earlier months and surprisingly none occurred in the Arboretum. In contrast, there were 9 incidents of property damage/graffiti, a number much higher than in June. Four burglaries were reported during July:
1. Sometime between July 2 and July 15, a burglar broke into a home on 26th Ave. near Lee while the owner was out of town. After smashing through a glass paneled back door, the burglar ransacked the house for valuables. Police were able to recover fingerprints from the scene.
2. On July 21 someone smashed in the front glass door of a business in the 2900 block of E. Madison St. and stole two credit card scanners and a numeric PIN pad. Police found no evidence that might help to identify the thief.
3. Sometime on July 25 between 5 and 9 PM a burglar entered an unlocked apartment on 20th Ave. near Madison and stole approximately $1800 in cash and money orders. Police found no evidence at the scene.
4. On July 29 someone broke into a house on 31st Ave between Pike and Pine. A detailed police report on this burglary is not available.
There was one attempted and one completed robbery during July:
1. On July 5, close to midnight, officers responded to a report of gunshots on E. Thomas St. near 26th Ave. While searching the scene, officers found a victim with a minor gunshot wound who told them that his assailant had pulled out a gun and demanded his wallet. Although the victim tried to give him the wallet, the assailant shot the victim and fled. While responding to the gunfire report, police noted a suspicious Ford SUV driving at high speed at 19th and Thomas, and after taking the victim's testimony began a successful search for it. The victim did not identify either occupant of the SUV as his assailant, however.
2. On July 23, a little after 7 PM, a young woman was waiting for a northbound bus on 23rd St. near John when a male approached her and asked her to check on when the next bus was coming. As she was taking out her smart phone to do this, he pushed her to the ground and grabbed her phone. After fleeing north to Thomas St, the assailant fled west on Thomas. A bus arrived shortly after the robbery and took the victim to the University of Washington Medical Center for possible treatment. After interviewing the victim there, the police returned to the area of the crime but were unable to find the robber.
Among the other crimes reported to the police during July were two incidents of harassment, two auto thefts, one bike theft and a case of shoplifting. The remaining reports concerned theft and fraud not serious enough to produce detailed police reports.
Lowell Hargens is a Madison Valley resident and former University of Washington professor of sociology specializing in the statistical analysis of data.