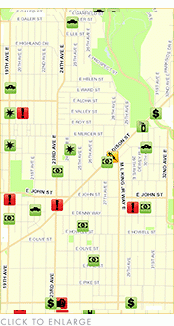 Fewer crimes in Madison Valley were reported to the police during June than in previous months. In May, for example, there were approximately 35 crime reports but in June there were only about 25. As in May, the number of car prowl thefts remained low (only two reported incidents in June), and reports of property damage/graffiti almost disappeared (2 incidents). Harassment reports were more frequent than any other type of type of incident, but there were only four such cases. There were three burglaries during the month, and in none were police able to find fingerprints or other evidence.
1. Sometime during the night of June 5–6 someone stole a valuable racing bicycle (Trek Madone 5) and a 19-inch flat screen television/DVD combination from an unlocked garage off of 19th Ave near Roy.
2. On June 7 around 11:30 AM an intruder entered an unlocked office on 19th Ave. near Republican and stole a valuable item not specified in the police report.
3. On June 11 sometime between 4 and 9 PM someone stole two Mary Kay cosmetic suitcases containing approximately $1400 worth of cosmetics from an unlocked garage on 24th Ave. near Mercer.
In addition, there were two reports of auto theft, one non-injury assault near Union and 23rd Ave. and an arrest for possession of methamphetamine near Madison and MLK. Let's hope that the near absence of crimes against persons during June continues for the rest of the summer.
Lowell Hargens is a Madison Valley resident and former University of Washington professor of sociology specializing in the statistical analysis of data.