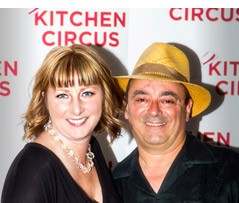 Hosted by Thierry Rautureau, the "Chef in the Hat," the web series features nine home cook contestants who each make one course (the appetizer, entrée, or dessert) for 45 diners at Rover's restaurant (before it closed).
The series is "Real" TV rather than reality TV. "The drama happens all by itself," says Chef, "it's the result of what really happens in the back of the house every evening you go to a restaurant." In each episode, local celebrity guests join the diners to give their professional opinions, including Steve Scher (NPR radio host), Jason Wilson (chef/owner of Crush), Tom Douglas (Seattle restaurateur), Maria Hines (chef/owner of Tilth, Golden Beetle, Agrodolce), and many more. Each evening a favorite course is chosen, and the winner moves on to the finale at the end of the season.
Kitchen Circus was produced, shot, and edited in Seattle by Kellie Eickmeyer of MAD Valley Productions, and used a local Seattle crew. We were supported by sponsors including Charlie's Produce, Gene Juarez, Le Creuset, and OpenTable. We hope you enjoy watching Kitchen Circus; we recommend watching it on your TV with an internet connected device (ex. Xbox, Wii, PS2, Apple TV) and YouTube app. Each episode is ~30 minutes and is free to watch, available in HD, with no commercials. Watch on YouTube. Like on Facebook. More info.