Here are the Seattle OPCD and SDCI Land Use notices and City planning activities in the last month for communities from 18th Ave. to Lake Washington and E Union St. to SR-520.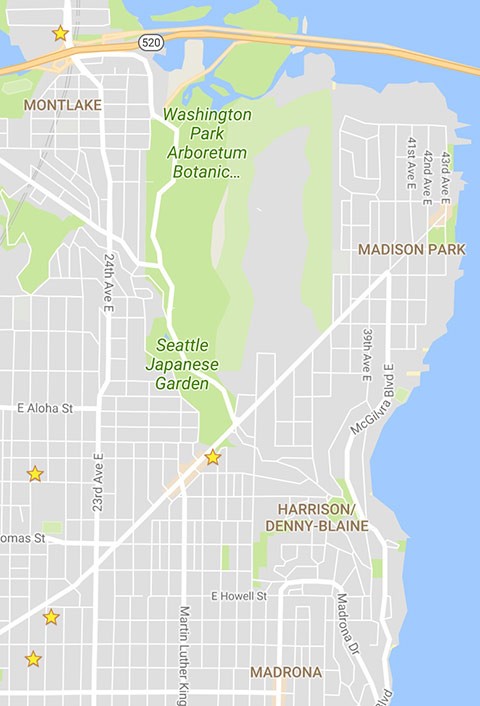 Proposed Design Review Program Changes
The Seattle City Council is considering proposed legislation to Seattle's land use code to modify the design review process. The legislation would change many aspects of the design review program, as described in the linked notice. The City Council's Planning, Land Use and Zoning (PLUZ) Committee will hold a public hearing to take comments on the proposed changes to the design review program.
Monday, September 11, 2017, at 7:00 p.m.
SIFF Cinema Uptown, Auditorium 3
511 Queen Anne Avenue North
Notice of Public Hearing
2925 E Madison St - Design Review
Design Review Board Recommendation meeting regarding application to allow a six-story building consisting of 82 residential units above 26,250 sq. ft. of retail space, located at ground level. Parking to be provided for 140 vehicles at and below grade. Existing structure to be demolished. Zone: Single Family 5000, Arterial within 100ft., Steep slope (>= 40%), Liquefaction prone soils, Neighborhood Commercial 2-30′ Pedestrian, Neighborhood Commercial 2-40′ Ped
September 13, 2017, at 6:30 p.m.
Seattle University
965 12th Ave
PIGT Pigott 104
Campus Map
Notice of Design Review
State Route 520 Bridge Replacement Noise Variance
The Washington State Department of Transportation has requested a Major Public Project Construction Variance from the maximum permissible sound level requirements of the Noise Control Code, Seattle Municipal Code, during construction of Mountlake Phase of the State Route 520 Bridge Replacement. Work will include construction of the West Approach Bridge South, Montlake lid and interchange, and a bicycle/pedestrian land bridge over the highway. This variance application pertains to the above-ground construction activities that need to take place during nighttime hours.
510 19th Ave E
Land Use Application to allow a 4-story building containing approximately 8,500 sq ft of medical services uses on floors one and two, and 8 apartment units located on floors three and four. Existing 2-story building to be demolished. Zone: Neighborhood Commercial 1-40′, Arterial within 100 ft., Urban Village overlay
1512 19th Ave
Land Use Application to subdivide one development site into two unit lots. This subdivision of property is only for the purpose of allowing sale or lease of the unit lots. Development standards will be applied to the original parcel and not to each of the new unit lots. Zone: Lowrise-1, Arterial within 100 ft.
1644 20th Ave
Land Use Application to subdivide one development site into three parcels of land. Project also includes a unit lot subdivision of Parcel Z into five unit lots. This subdivision is for the purpose of allowing sale or lease of the individual live-work and residential dwellings units. Development standards will be applied to the development site as a whole and not to each of the new lots and unit lots. Zone: Scenic view within 500 ft., Urban Village overlay, Neighborhood Commercial 2-40′
Resources
Land Use Information Bulletins
Property & Building Activity Interactive Map
Permit and Property Records
Design Review Board
Buildings in Design Review Map