Here are the Seattle OPCD and SDCI Land Use notices and City planning activities in the last month for communities from 18th Ave. to Lake Washington and E Union St. to SR-520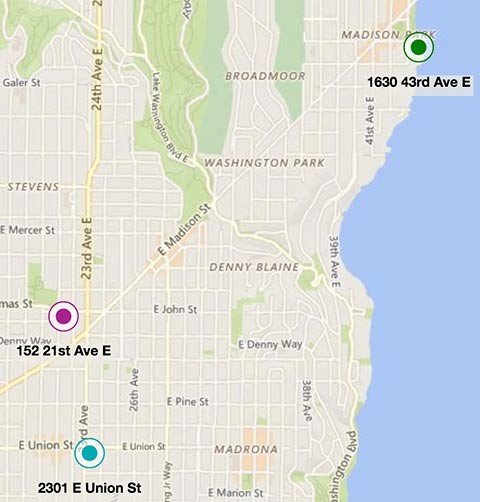 2301 E Union St (Midtown Block)
Design Review Early Design Guidance application proposing a seven-story apartment building containing 435 units, retail and restaurant spaces at ground level. Parking for 286 vehicles to be provided below grade. Existing structures to be demolished. Zone: Urban Village overlay, Scenic view within 100 ft., NC2P-75′ (M1), Arterial within 100 ft., NC2P-40′
Proposed Changes to Off Street Parking Requirements
The Seattle City Council is considering proposed legislation (Council Bill 119173) to amend Seattle's land use code regulations related to off-street parking for motor vehicles and bicycles. The proposal includes a new "flexible use" parking, reduced parking requirements, and clarified definition of frequent transit.
152 21st Ave E
Streamlined Design Review application proposing a 3-story structure with 6 townhouse units. No parking to be provided. Existing structure to be demolished. Zone: Lowrise-3, Urban Village overlay, Scenic view within 500 ft., Arterial within 100 ft.
Notice of Streamlined Design Review
1630 43rd Ave E
Shoreline Substantial Development Application to enclose existing covered driveway and install a new boat lift. Project includes a new in ground covered pool, landscaping, and interior and exterior alterations to existing multi-family building. Parking areas to be reconfigured to add additional barrier free spaces and one additional parking space for a total of 80 spaces. Zone: Urban residential, Zoning special street within 100 ft., Archaeological buffer area, Lowrise-3, Wetland, Conservancy recreation, Arterial within 100 ft., Special grading requirement.
Resources
Land Use Information Bulletins
Property & Building Activity Interactive Map
Permit and Property Records
Design Review Board
Buildings in Design Review Map