Here are the Seattle OPCD and SDCI Land Use notices and City planning activities in the last four weeks for communities from 18th Ave. to Lake Washington and E Union St. to SR-520.
MHA Public Hearing District 3
Proposed legislation to apply Mandatory Housing Affordability (MHA) requirements in existing multifamily and commercial zones in Seattle, areas currently zoned Single Family in existing urban villages, and areas zoned Single Family in potential urban village expansion areas identified in the Seattle 2035 Comprehensive Planning process.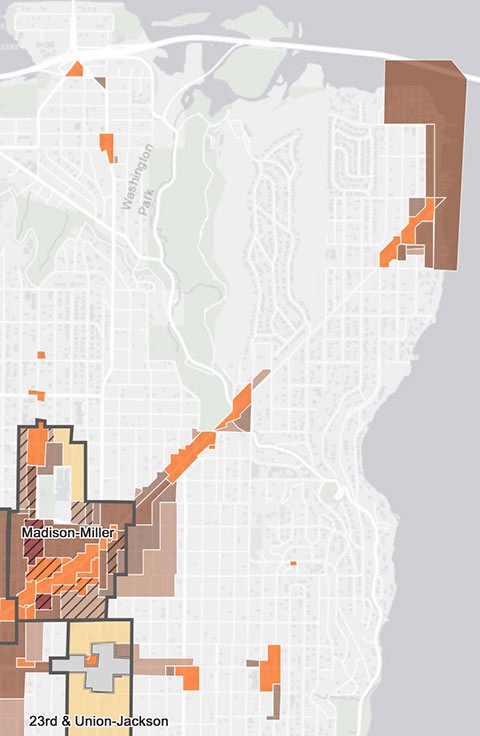 The legislation would make area-wide revisions to the official zoning map in the areas shown on the map, and apply MHA requirements in the rezoned areas, requiring new commercial or multi-family development in the affected zones to contribute to affordable housing.
Public hearing focusing on changes affecting property in District 3 and District 7:
April 16, 6:00 P.M.
Seattle Central College
Broadway Performance Hall
1625 Broadway
Sign-up sheets will be available starting at 5:30 p.m. Written comments will be accepted at: [email protected]
1711 & 1715 20TH AVE
Design Review Early Design Guidance (EDG) for 7 units total and parking for 7 vehicles proposed, on each property. Existing structures to be demolished. Zone: Neighborhood Commercial 2-40′, Urban Village overlay, Scenic view within 500 ft.
April 11, 6:30 P.M.
Seattle University
Student Center 130
1000 East James Way
EDG notices for 1711 & 1715 20th Ave
236 24TH AVE E
Land Use Application to subdivide one development site into four unit lots. The construction of residential units is under Project #6582536. Zone: Lowrise-3, Urban Village overlay
111 26TH AVE E
Land Use Application to subdivide one development site into four unit lots. The construction of residential units is under Project #6492073. Zone: Potential slide area, Steep slope (>=40%), Lowrise-2
115 26TH AVE E
Land Use Application to subdivide one development site into four unit lots. The construction of residential units is under Project #6564684. Zone: Potential slide area, Steep slope (>=40%), Lowrise-2
Resources
Land Use Information Bulletins
Property & Building Activity Interactive Map
Permit and Property Records
Design Review Board
Buildings in Design Review Map