Here are the Seattle OPCD and SDCI Land Use notices and City planning activities in the last month for communities from 18th Ave. to Lake Washington and E Union St. to SR-520
Central Area Design Guidelines and Design Review Board
The City of Seattle Office of Planning and Community Development is proposing to amend the Seattle Municipal Code to adopt the Central Area Design Guidelines; to establish a Central Area Design Review District; and to change Design Review Board Composition.
Notice of Land Use Code Amendments
Accessory Dwelling Units Environmental Impact Statement
The City of Seattle is proposing to change regulations in the Land Use Code to remove barriers to the creation of accessory dwelling units (ADUs) in single-family zones. ADUs include backyard cottages, known as Detached Accessory Dwelling Units (DADUs), and in-law apartments, known as Attached Accessory Dwelling Units (AADUs). The proposal involves allowing two ADUs on one lot, removing the existing off-street parking and owner-occupancy requirements, and changing some development standards that regulate the size and location of detached ADUs.

Short-Term Rental Regulations
The City Council is considering amendments to the Land Use Code (SMC Title 23) related to short-term rental uses and bed and breakfast uses. The proposed changes would: add a definition and standards for short-term rental uses; modify the definition and standards for bed and breakfast uses; and adds other definitions related to the new short-term rental and bed and breakfast standards. Comments may be emailed through 5:00 p.m.to Spencer Williams in Councilmember Rob Johnson's office at [email protected]
Public Hearing
Monday, November 27, 2017
Sign up to comment 4:30, hearing 5:00 p.m.
City Council Chambers
2nd floor, Seattle City Hall
600 Fourth Avenue
2310 E Madison St
Land Use Application to allow a five-story, 17-unit apartment building (12 small efficiency dwelling units and 5 apartment units). Retail to be located at street-level. No parking proposed. Existing structures to be demolished. Zone: Neighborhood Commercial 2-40′ Pedestrian, Lowrise-3, Arterial within 100 ft., Urban Village overlay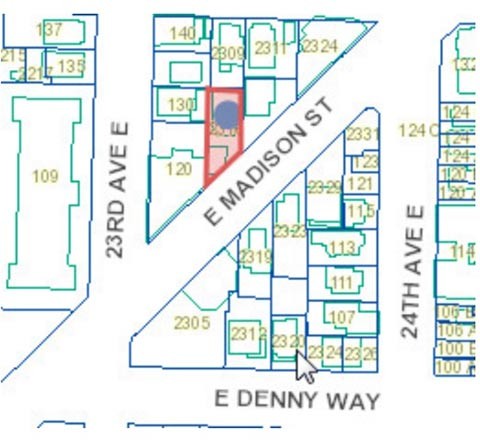 Resources
Land Use Information Bulletins
Property & Building Activity Interactive Map
Permit and Property Records
Design Review Board
Buildings in Design Review Map