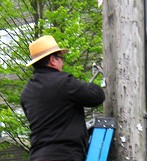 This past Saturday the Madison Valley merchants and residents took part in a Spring cleaning along Madison between 27th and 30th.
Merchants, volunteers, and some paid help worked together to clean moss-covered awnings, paint over graffiti, remove stickers from poles and bike racks, pressure wash storefronts and sidewalks, remove weeds from the tree wells and sidewalks, and install beauty bark.
The Madison Valley Merchants Association spent about $2,500 to pay for the cleaning effort. Harbour Pointe Coffeehouse provided coffee, Harvest Vine baked some wonderful pastries for volunteers, and Pagliacci Pizza provided pizza for everyone at lunchtime. City People's Garden Store gave everyone a discount for plants, flowers, and supplies.
The next time you're in a neighborhood shop, please tell the proprietor how much you appreciate a clean and pretty shopping district!
Thierry Rautureau removing Cash for Junk signs on street posts.
The side of Madison Cleaners pressure washed and the tree wells cleaned.
Volunteers removing hundreds of stickers from poles.
Not only did Pagliacci donate pizza, they also helped!
The freshly painted space between Jae's and the Cleaners.
The "before" photo of the Music Factory walkway.
The "after" photo. What a difference!
The tree wells with weeds removed and bark in place.
The front of Henrietta's hat shop got a fresh coat of paint.
Karrie Baas planting flowers in front of her shop.
Carolin Messier pressure washing the sidewalk.