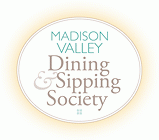 Tuesday night marked the inaugural dinner of the Madison Valley Dining & Sipping Society. The event was a big success with more than 50 people in attendance.
The idea for the group occurred to me last fall when I met with Audrey Seale, who started the Madrona Dining and Sipping Society (MDSS). She started her club a few years ago with the mission of supporting local restaurants and getting to know her neighbors. The members have formed lasting friendships. I thought the idea was wonderful, and that we should try to start a club in Madison Valley.
To kick off the first event, Audrey and 28 members of the MDSS attended our first dinner. Madison Valley had more than 30 guests in attendance. Apparently Madison Valley residents love food and wine—the event sold out in four days!
Cafe Flora hosted our first dinner. Dinner included a variety of shared appetizers, a selection of entries, and desert. Guests included a wide range of ages and professions. Attendees from Madison Valley included lots of tech folks (no surprise), a few doctors, musicians, artists, and retirees. It was a wonderfully eclectic group, and I hope we will have more time to get to know one another.
Wilridge Winery, based in Madrona, donated the wine sold at the dinner with proceeds benefiting both the Madrona and Madison Valley Community Councils. Paul Beveridge of Wilridge attended the dinner after spending the day bottling. Wilridge's new wine release party on May 30th.
Given the great demand, it's certain there will be future Dining and Sipping Society events. I'm currently working on a Happy Hour event at Luc and a weekend brunch at Harvest Vine.
If you'd like to be on the email list for future Dining and Sipping Society events please send an email to: [email protected]
A very special thank you to:
The Madrona Dining and Sipping Society
Wilridge Winery
Cafe Flora