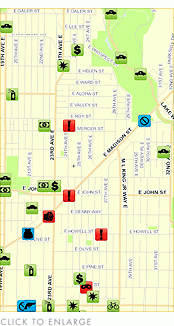 This month we introduce a new feature, a monthly crime report by Madison Valley resident Lowell Hargens, former UW professor of sociology specializing in the statistical analysis of data. We're grateful to have his expertise and want to thank him for volunteering.
A little over 30 incidents in our neighborhood were reported to the Seattle Police last month. Seven were car prowl thefts (signified on the map by green tiles with an auto containing a hole), four of which occurred in the Arboretum (some of the symbols on the map represent multiple occurrences). Four more incidents involved some type of monetary fraud or theft (green tiles with a dollar sign), including credit card theft, forgery, and identity theft.
There were three cases of threat or harassment (red tiles with an exclamation point) three of property damage or graffiti (green tiles with spray paint can) and, more seriously, three break-ins or burglaries (green tiles with eight-pointed star).
1. During the early evening of March 2 someone entered a home close to 26th and Union through an unlocked back door. The intruder stole various items not listed in the police report and left before the owners returned home.
2. On March 8 a neighbor reported that the front door of a rental house on 24th Ave. had been kicked open. The police searched the house and concluded that whoever kicked open the front door had probably left through the back of the house. When notified, the tenants discovered that the intruder(s) had taken some laptops and a video game console.
3. Sometime between March 18th and March 20th someone broke into a basement storage room of a specialty store on Union Street. Apparently nothing was taken from the storage room, although the intruder left a blanket in the room and vomit on the floor.
Also among the more serious incidents during March were a mugging (red tile with eye mask) on Pike St. close to 25th Ave. on March 25 (a detailed police report on this incident is not available), a non-aggravated assault (red tile with fist) close to 23rd and Madison on March 22nd, and a firearms discharge (blue tile with revolver) on March 30th.
A glance at the police reports map shows three main locations for incidents in our neighborhood, the Arboretum (car prowls), Union St. (both property crimes and crimes against persons) and Madison St. (ditto). Like Madison Park and Montlake, our neighborhood had relatively little crime compared to neighborhoods to our south, east, and north (U district). You can see this, as well as gaining additional information on the March police reports, by visiting the SPD's police reports website.
Up-to-date information for April is also available there.