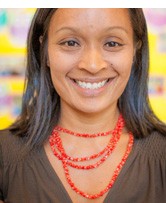 McGilvra Elementary is so pleased to welcome its new principal, Maria Breuder. Maria was raised in Seattle where she attended Seattle Public Schools as well as a local private school. She moved to Portland to attend Lewis & Clark College, where she received her B.A. in Psychology, and her M.A. in Teaching. Oregon was Maria's home for many years, until she and her husband, Paul, decided to move back to Seattle in 2005. Maria and Paul have two children — Dante is 7, and Giovanna (Gia) is 5.
Maria has been an elementary teacher for the past twelve years, beginning her career at North Plains Elementary in the Hillsboro School District in Oregon. Upon returning to Seattle, she accepted a teaching position at McGilvra Elementary, where she has taught for the past eight years.
Maria acquired her Principal Certification through Seattle Pacific University, and served as an Administrative Intern while teaching at McGilvra. The parents and PTA at McGilvra are really looking forward to working closely with Maria and her entire family. Maria has said that it is her goal to work with our entire community (Madison Park, Madrona, Washington Park, Central and everyone in between) to make this a fantastic and successful school year for all and hopes that the community, not just the families who attend McGilvra will become more involved with helping our kids and our community.