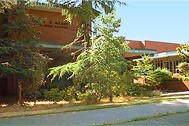 The Seattle Schools Capital Levy (Proposition 2) has been approved. In the new funding is a $14.5 million line item to modernize and re-purpose the Meany campus on Capitol Hill.
The existing building, originally built as a junior high, would be modernized and reopened as a comprehensive middle school. The plan will address current and projected middle school growth in central Seattle, and reduce overcrowding at Washington Middle School.
Links: Read more information on the plan or to get involved in the design process.