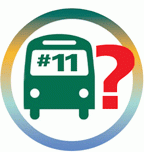 I've have reviewed the August 25, 2015 Metro proposal and I am sorry to say it fails, since:
1. It lengthens the runs of the 8/11 which are already among the most unreliable routes.
2. It does not allow for seamless transfers between the 11 and 12 going east and west.
3. It removes the 8 from John/Thomas.
4. It does not allow seamless access to the Community College on Broadway and other places on East Pine.
5. It duplicates service on East Madison from 19th to 24th which does solve any problems, but eliminates access to bus service on East John between 19th and 23rd Ave East.
6. It will require changes in the 19th Ave East and East Madison intersection for 60 foot buses to turn west or north.
I know that Metro has spent the last two months trying to work this out and I believe that plan could be made palatable by moving the 8 back to East John/Thomas and by having the 11 continue west to 12th Ave East where it would turn north to John and light rail. These are easy fixes and would leave the rest of the plan intact!
Amazingly this plan has united the users of the 8, 11 and 43 in opposition to the Metro 2016 Capitol Hill restructure! I look forward to talking to you about these issues. If this plan can't be modified then I would suggest, as others do, that the Capitol Hill changes be postponed until after the implantation of Light Rail so that the impact of it and the Prop One changes can be reviewed.
If you would like to provide public testimony to the King County Council on this proposed March 2016 Metro Transit service changes please go to:
http://www.kingcounty.gov/council/testimony/testimony-backup2.aspx