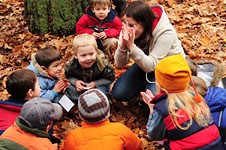 The UW Botanic Gardens is opening a nature-based preschool this fall in the Washington Park Arboretum.
Fiddleheads Forest School is offering an outdoor program of day-to-day activities, play, and exploration. As the children engage with the world around them and inquire about it, instructors will supplement the activities with a curriculum to further engage their curiosity.
The mission of the school is to promote the growth of the whole child through attention to his or her social and emotional development, self-regulation, and physical development.
See their site for more info, applications, schedules, and tuition.