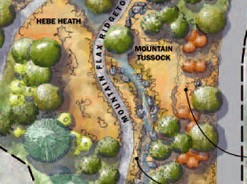 Although the rains poured down just 30 minutes before the opening ceremony on September 15, a crowd of interested neighbors, officials, gardeners and Kiwis (the New Zealand natives, not the birds) came to hear the speeches and learn more about this grand new garden in our Washington Park Arboretum.
Luckily the warm rains stopped and the Maori dancers, scantily clad, sang and danced to open the gardens. This unique garden is designed to show seven distinct plant communities indigenous to the mid- to high-level elevations on the South Island. Although it is a plant museum of New Zealand native plants, it is also designed to show Pacific Northwest Gardeners new and exciting plants that are adaptable to our climate and soils. As the years pass, watch how they grow and behave in Seattle — maybe you will want to plant some in your home gardens.
Another feature of the garden that will be appreciated is its topographical design. Although planted on a steep slope with an expansive view down Azalea Way, the gardens are ADA accessible. There are ADA parking spots and gradual-graded gravel trails. Access by car continues to be open from the north end entrance of the road at the Graham Visitors Center.
You can read more about the New Zealand Garden in this article (PDF).

Red Tussock Grass