Saturday March 17
The Feast of St. Patrick's
4 PM until the taps run dry
Presenting Chef Arnie's Famous Corned Beef Sandwich
Featuring Irish-Style Brews, including Boundary Bay Irish Red, Iron Horse Quilter's Irish Death, Diamond Knot Slane's Irish Red, Lowercase Dry Irish Stout and Double Mountain Black Irish Stout (on nitro).
• Green Rice Krispy Treats for the Wee Ones
• Ice Cream Stout Floats for The Elders
• Irish Whiskey & Specialty Cocktails at The O'BottleNeck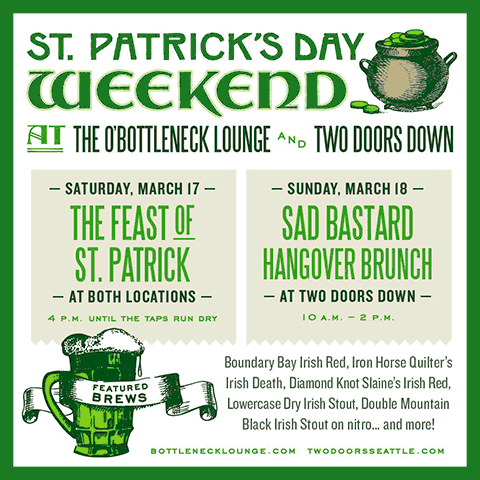 Sunday March 18
Sad Bastard Hangover Brunch at Two Doors Down
• $5 Irish Ales from 10 AM to 2 PM
• Corned Beef Hash and Eggs
We've got the cure for whatever 'ales' you!
The BottleNeck Lounge is an over 21 years of age establishment. Two Doors Down is family-friendly and includes all ages.
The Bottleneck Lounge
206.323.1098
2328 E. Madison St
Two Doors Down
206.324.BEER
2332 E Madison St.