Dust off your shillelagh and don your best green shirt — St. Patrick's Day is upon us. We're kicking things off on Saturday evening with a special Irish Ale Happy Hour from 4–6 PM, featuring an array of NW Irish-style beers, including the crown jewel of the line-up: Iron Horse Quilter's Irish Death on NITRO at Two Doors Down.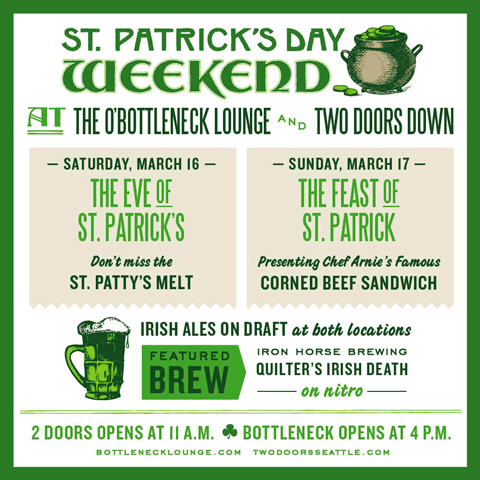 We'll be serving Chef Arnie's delicious corned beef sandwich all day on Sunday, but we'll ease into the culinary portion of the celebration on Saturday evening with a festive spin on a not-so-traditional-classic: The St. Patty's Melt. This little ditty features a 1/4 lb burger topped with Irish cheddar, bacon, tomato, and onions caramelized in Irish Stout. We'll have Irish whiskey specials at the O'BottleNeck, stout floats at Two Doors Down and green rice krispy treats for everyone! Two Doors Down opens at 11 am daily, and The O'BottleNeck opens at 4 PM. Bring the kids, grab your friends and join us on East Madison (where you'll find nary a green beer in sight) Slainte!!
March 16 and 17
At Two Doors Down and The O'BottleNeck Lounge
No Cover
Two Doors Down is family-friendly and includes all ages.
The Bottleneck Lounge
206.323.1098
2328 E. Madison St
Two Doors Down
206.324.BEER
2332 E Madison St.