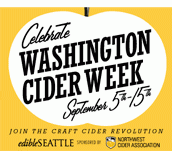 The Northwest Cider Association has announced the third annual Washington Cider Week, a 10-day celebration of craft cider. The events kick off September 5–6 with the Northwest Cider Summit at South Lake Union. Numerous tasting events occur the following week, including at Cafe Flora.
Cafe Flora is hosting the Tieton Cider Works tasting. Tieton owner Sharon Campbell pours through the Tieton lineup and speaks about her farm, as well as what's new at the cidery. This year she will bring a few bottles of their Precipice Perry that has been out of stock and their two new seasonal releases, Cidermaker's Reserve and Smoked Pumpkin Cider. Cafe Flora is offering a special Cider Week pizza and other menu options.
Cafe Flora. Wednesday, Sept 11 from 5:30–7:30 PM.