Please welcome your neighbor Linda Becker as our latest volunteer in the Harrison Ridge Greenbelt! Linda has lived in Madison Valley for 20 years and is a lifelong gardener. After she retired last year, Linda looked no further than her own backyard for a worthwhile volunteer opportunity. She lives a block away from the Greenbelt and has neighbors who grew up playing in the woods. She was excited to learn about the restoration work—it's a perfect fit! After completing the official Forest Steward training this fall, Linda will transition to lead volunteer at the Greenbelt. "I hope to foster interest and inspire more volunteers from the neighborhood," she says. "The Greenbelt is such an important treasure of the community!"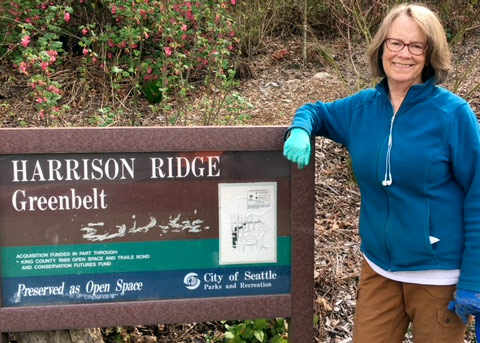 Linda Becker
Linda is right! The Harrison Ridge Greenbelt is the only "wild" greenspace in the neighborhood. The 6-acre land is home to many birds and provides a wonderful respite from the asphalt and concrete of our lives. As a human geographer (a scientist who studies why people live where they live), Linda is especially aware of the benefits of interacting with nature for people of all ages, but especially for children. Anyone can meander the paths and sit among the trees. Additionally, the Stewards provide field work experiences for the Urban Forestry class at The Bush School.
The Forest Stewards of the Greenbelt work under the auspices of Forterra. Forterra's mission is to secure wilderness, local farms, and city greenspaces from unbridled development. They provide tools, plants, and support to the Steward volunteers. Forterra functions as a non-profit under the umbrella of Green City Partnerships. They supervise the restoration of hundreds of thousands of acres that will now be saved for our future generations.
Stop by and say hello when you see us! Please consider joining our team! Even one or two hours a month can make a big difference. Working together, we can all enjoy this special park.