OCTOBER 1, 2012 | ANONYMOUS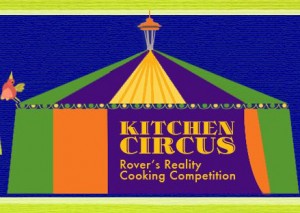 Hosted by the Top Chef Master himself, The Chef in the Hat, each episode of Kitchen Circus will feature three home cooks (just like you and me), testing their skills while preparing one course of a three course meal at Seattle's renowned Rover's restaurant. Who will master the rigors of a professional kitchen and be voted with the best course of the evening by a FULL house of gourmet diners?
Tune in to find out. Dishes will be judged on three criteria: taste, presentation, and creativity, with one home cook winner each evening. All winners from the first three episodes will move on to the finale dinner at the end of the season, where a champion will be crowned. Want to watch the drama unfold? Dinner reservations to be a judge at one of these exciting competitions sold out quickly, but you can go to their Facebook webpage to watch episodes, read contestant bios, and get cooking tips from Thierry. Kitchen Circus episodes will be posted online and are free. https://www.facebook.com/KitchenCircus. Rover's has revealed the nine talented contestants selected to compete. You can read their Bios on his website and see how you measure up. There's been a lot of local press about this curious new reality show. It's a clever, uplifting way to engage everyday cooks in a four star cooking environment and get people excited about food. The dinner competitions are scheduled for Tuesday evenings on November 6th, November 13th, November 20th, and December 4th. Local celebrities who will be sitting in as guest judges are Chef Tom Douglas, Chef Maria Hines, Steve Scher (of KUOW Radio), and Marty Riemer (103.7 Radio Host). Rover's has been a success since it first opened in 1987, and in 2010 Rautureau opened Luc, a popular French-American café and bar. Rautureau has cooked for such well-known figures as Hillary Clinton, Francis Ford Coppola, Jackson Browne, and Julia Child. Bon Apetit!
Post a Comment
| Topics: